Wed, 20 Jul 2005
Bit by the shutterbug
Last week, Julie posted a photograph of me playing with someone's Canon Digital Rebel at the waterfront park concert. This week, I had my own, (actually an XT), to play with.
Here's the concert: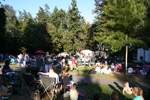 And the best shot of the day:

Like many others, the ease of digital photography has gotten me much more interested in picture making. Recent photo experiences had left me feeling frustrated by the limitations of the camera. There are plenty of shots that I could do with the point and shoot, but there were a number of shots that was just missing or that were hard to make.
Meanwhile I've been admiring the handiwork of friends and acquaintances via Flickr, which has also served as a source of inspiration and learning.
I'll probably be posting more photos than I have in the past, but (unsurprisingly) I'll be putting more photos on Flickr.
[
23:24
] | [
photography
] |
#
|
TB
|
F
|
G
|
1 Comments
|

I've had a Rebel Digital now for nearly 2 years and I love it. After having shot film for several years prior, it was a great relief to be able to go straight digital. I haven't had quite as much time for landscape stuff in that time,
so some of best shots
were film based but there is definitely no going back.
Posted by
Steven Wilcox
at Sun Jul 24 07:41:13 2005
You can subscribe to an RSS feed of the comments for this blog:

Add a comment here: You can use some HTML tags in the comment text:
To insert a URI, just type it -- no need to write an anchor tag.
Allowable html tags are:
<a href>
,
<em>
,
<i>
,
<b>
,
<blockquote>
,
<br/>
,
<p>
,
<code>
,
<pre>
,
<cite>
,
<sub>
and
<sup>
.
You can also use some Wiki style:
URI => [uri title]
<em> => _emphasized text_
<b> => *bold text*
Ordered list => consecutive lines starting spaces and an asterisk